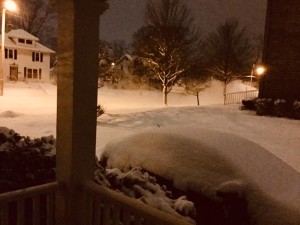 Dear Nancy,
You wake to a white world. Blowing and drifting snow astounds you into a new day. You are trying to comprehend this changing climate. From subzero to snow to rain. Always change. I know it's a lot to process these days.
I want you to simply be in each moment. Today, enjoy the snow. Tomorrow, be grateful for a warming trend. See the beauty in each moment. Recognize the joy of variety.
This is not the winter of your childhood. This is a climate changing, upside down with joy. So laugh, have fun with it and call the people to awaken.
It's beyond time to act. Keep gathering members for Citizens' Climate Lobby. Keep speaking up and have a ball. I created life for you to enjoy. It's never too late to dance.
Love,
Gaia