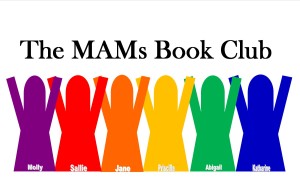 Nancy Flinchbaugh's novels feature the MAMs… The Magnificent and Marvelous Book Club. They made their debut in Revelation in the Cave and now star in Nancy's new novel, Revelation at the Labyrinth, as well.
After Nancy's first book, one of her friends told her, "I want to be in a group like the MAMs." And so, Nancy started a MAMs Book Club Springfield, which meets once a month at Nancy's house. Every time they read a book, Nancy creates a study guide for their discussion, and for other book clubs as well. So, if you're looking for a good read, or you need a study guide for your own book club, check out this page! Each study guide includes comments by Nancy and the fictitious MAMs, along with questions for discussion.
Here are the books, the MAMs Book Club Springfield has read, since they began back in 2012!
3) Dinner with A Perfect Stranger
4) Mennonite in the Little Black Dress
5) Wicked
9) Spiritual Ecology: The Cry of the Earth
13) Founding Mothers
14) The Guernsey Literary and Potato Peel Society
15) Lamb: The Gospel According to Biff
17) Under the Banner of Heaven
18) Snow Flower and the Secret Fan
21) The Ladies No. 1 Detective Agency
29) The Life-changing Magic of Tidying Up
31) The Prize Winner of Defiance, Ohio
32) Anam Cara: The Book of Celtic Wisdom
33) The Year of Living Biblically
39) Patriotism, Peace and Vietnam
49) The All-Girls Filling Station's Last Reunion
51) Revelation at the Labyrinth
54) Fish Tank: A Novel for our Times
59) The Curious Incident of the Dog in the Night Time
69) The Tattooist of Auschwitz
70) Quiet: The Power of Introverts in a World that Can't Stop Talking  
74) Hand to Mouth: Living in Bootstrap America
77) The Library at the Edge of the World
79) Awakening: A Contemplative Primer on Learning to Sit