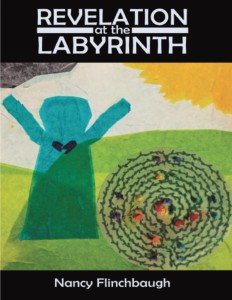 Nancy's new novel! Available now!
BUY REVELATION AT THE LABYRINTH AT ELECTIO PUBLISHING: Special Deal. Buy the paperback and get a free ebook version of your choice. Click here!
BUY REVELATION AT THE LABYRINTH ON AMAZON: Kindle    Paperback
Signed copies available from the author.Contact the author at nancy.flinchbaugh@gmail.com. Available for $20 (tax included) + shipping. Free delivery if you live in the Springfield, Ohio area.

Also available on Barnes and Noble.
Listen to an introduction to the book on YouTube
Join the Magnificent and Marvelous Book Club (the MAMs) on an adventure as they launch a re-entry organic farm for women in recovery. The ancient pilgrim path of the labyrinth leads them all through personal healing and redemption, while finding hope for the planet as they encounter the turmoil of domestic violence, addiction, cancer, and climate change. Thomaseena, a victim of domestic violence, is erroneously sentenced to prison for killing her husband in self-defense. When she is released from prison, Thomaseena moves into the MAMs' re-entry organic farm and begins to reconnect with the earth, seeking healing, recovery and a new life path. Meanwhile, MAM Molly Mabra journeys with breast cancer. This lively story of love and transformation will keep you reading and thinking about possible ways to creatively build a future together.
WHAT PEOPLE ARE SAYING ABOUT HER BOOK…
"As a press, we were very excited to have Nancy as one of our authors," noted Jesse Greever, eLectio Publishing CEO. "She has the ability to capture the reader's attention with her writing, and keep them turning the pages. We believe her story is one not only of love and transformation, but one that also highlights a very real struggle that touches most families. Her book Revelation at the Labyrinth captures a story of healing that resonates with all of us."
---
Labyrinths. Chakras. Prison. AA meetings. Climate change. Book clubs. Breast cancer. What in the world do all of these have in common?
They're all part of Revelations At The Labyrinth, Nancy Flinchbaugh's new novel about a book club with heart, the MAMs (Magnificent And Marvelous Book Club). Expect the unexpected as the MAMs launch a re-entry organic farm to help women released from prison to navigate their way back into the world. The MAMs provide healing and support to women reeling from spousal abuse, drug addiction, and sex trafficking, all while having to deal with issues of climate change, breast cancer and angry neighbors.
Reading this book is like walking a labyrinth, as you wind your way in to the lives of the characters, then wind your way back out to their triumph.
–Kathie Giorgio, author of The Home For Wayward Clocks and In Grace's Time
---
"Nancy Flinchbaugh draws you into her story of timeless humanity and the plight of the earth in a most engaging way. The reader puts down the book and is then compelled soon after to pick it back up and continue reading the wonderful story she weaves."                                                             -Mary Katherine Somers
___________________________________________________________
This second adventure of the MAMs is a fast-moving story with a carefully crafted plot and many strong characters you won't soon forget. It is a page turner saga full of hope, inspiration, adventure, and romance. The characters struggle with many issues that abound in our present society. Lots to think about and enjoy.
– Mary Jane Salyers, author of Appalachian Daughter and Appalachian Survivor.
___________________________________________________________
This was a spectacular story about the strength of women and the love of God that brings them through their trials. The uniqueness that Nancy uses of poetry in her novel, is one that I thoroughly enjoyed. A must read!
–  Laura Henry—Author of Starlight on Snowfall
___________________________________________________________
"This novel packs in a lot of thought-provoking material about some of the most important issues of our time: domestic violence, alcoholism, flaws in criminal justice, climate change, and more. These themes are illuminated through an engrossing story that focuses primarily on two characters: Molly, a woman struggling to stay involved in life as she deals with breast cancer, and Thomaseena, who is discovering her voice as a poet and prophet in the wake of abuse and unjust imprisonment. These women interact with a wide cast of characters, including Molly's book club whose members start an organic farm for women ex-offenders, the residents of the farm struggling to put their lives back together, captains of industry, and assorted other family members, friends, and acquaintances. The writing is easy to follow and well worth the effort."                                                  — Steve Schlather, Journalist and Environmentalist
WHAT NANCY IS SAYING ABOUT HER BOOK…
"I wrote this book for the Earth. This is a story of hope for all people… an uplifting story of redemption, incorporating many issues that I care deeply about. It's a creative outpouring of love, a product of my spiritual writing practice. My goal is to inspire my readers to triumph in both their personal and community lives."
– Nancy Finchbaugh, the author
For more information about this book check out Nancy's Revelations Blog posts at these links…
Re-Entry, Recovery and Redemption?