October 1st, 2020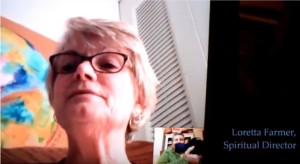 Each month, since the launch of my book Awakening: A Contemplative Primer on Learning to Sit) May, 2020, I am reflecting on a contemplative practice introduced in the book. For October, the focus is on Sacred Conversation.
Today, I want to talk about the importance of being heard. We all need someone to listen to our lives. I believe that God sends  people  to listen, love and guide us on our spiritual path. In a letter I received from God while writing my book on contemplative practices, God said to me, "You are the way I communicate. You can be my heart beating for the person we both love."
So I want to ask… Who listens to you? Who holds you in prayer? Who walks with you through your spiritual life? Do you have people who help you reflect upon your day -to-day experiences?
Throughout my life, I've been blessed with good listeners. I remember a time in particular when I became very confused on my spiritual journey. I once heard that a thinking Christian struggles at least every seven years with their faith and belief in God. Perhaps, our image of God becomes too small for the reality of the One who created us all. For me, this happened in young adulthood as I tried to resolve the many variations of theology I learned in college. I left the church for a while. One night, someone listened to me. He didn't judge me but acknowledged the difficulty of my journey and my unanswered questions. I still remember his compassion that became a bridge into a deeper faith journey for me.
Now I have a spiritual director who I meet with regularly. She helps me consider how God is moving in my life. She listens to my struggles, encourages me along the way and validates the way God is guiding and speaking in my life. I value her presence and listening with me.
When I started receiving the letters from God, which I call "Letters from the Earth," I talked to her about the letters, often reading them to her. She encourages me to continue to listen, and she affirms the messages I hear. She wants me to share these message with others. At times, I worry that people will think I'm totally bonkers, but she assures me that these are good messages and they need to be heard. "Who else will speak for the Earth?" she asks me. She tells me that God is still speaking through us.
Spiritual directors are not therapists or counselors, but instead, they help a person explore a deeper relationship with the spiritual aspect of being human. They help people tell their sacred stories. Spiritual direction helps guide us, teaching how to live.  James Keegan, SJ explains,  "Spiritual direction is the contemplative practice of helping another person or group to awaken to the mystery called God in all of life, and to respond to that discovery in a growing relationship of freedom and commitment."
Often small groups can also be places of deep listening. Throughout my life, small groups support my spiritual walk. In high school, they encouraged my growing faith. In college we prayed and searched together. In my first job after college, I led a small community of college students in an intentional Christian community and that became a beckon of light and love for each of us. As a young parent, our church offered many groups for companionship and navigating the challenges of life. A career counseling group a friend and I led, helped me become who I am today, encouraging me to follow the path to which I felt called, to serve God and people and to work for peace and justice. As unpractical as it seemed, my small group encouraged me, and that is who I have become. I'm forever indebted to their presence with me in that time.
When the pandemic began, my current church formed Circles of Hope. We meet by Zoom weekly to check in, consider questions following up on the weekly sermon, and to pray for each other. I also participate in a Shalem Circle which meets monthly, with others who have completed contemplative studies with the Shalem Institute for Spiritual Formation. We also meet virtually during the pandemic, and early on started meeting twice a month as we all tried to navigate this difficult reality of COVID-19. These circles support me in my day-to-day walk.
As I've experienced the transformative power of being heard in my own life and heard stories of how listening transforms others, I've made a commitment to do more listening. Recently at a Shalem Gathering, a new friend explained a process in San Francisco, where her community listens to street people. They set up two chairs on the sidewalk with a sign announcing "When you talk, we listen." Then they sit, waiting for whoever needs to be heard on a given day. I also know of a program in Columbus called "Women-to-Women"[i] for low income women, single mothers, and those facing a myriad of issues, such as re-entering society from prison and overcoming drug and alcohol problems. Their approach is to listen, as well.
For several years, I been participating in another type of listening circle, initiated by a local program called "Circles." At the time, two national non-profits (Move the Mountain and Bridges out of Poverty) partnered in a project to help people move out of poverty. An important part of the program involved small groups of "Circle Leaders" who were navigating their way out of poverty, and "Allies" who were there to support and provide networking connections. When my Circle met, we listened to each other, shared our personal goals and related progress and prayed for one another. This group continues to be important to us all as we navigate our lives and work to reach our goals. Over time one of our Circle members paid off her debt, bought a house and completed college.
Still another form of spiritual listening is a Spiritual Friendship, where you meet regularly and listen to each other.
So, if you want to explore having some to listen to your spiritual journey, I  encourage you to take time to find a spiritual director, friend or listening circle, finding someone who resonates with your experience and faith journey is so important. Here are some suggestions for getting started:
If you seek a spiritual director, the websites of both Spiritual Directors International (sdi.com) and Spiritual Directors of Color Network (sdc.com) provide directories of spiritual directors. You can also contact local religious organizations for referrals.
If you seek a spiritual friendship, invite a church friend or close companion to consider doing this with you. If they agree, set a regular schedule to meet and listen to each other and pray for each other. It's helpful to have a format you follow, and to agree to the length of time you'll meet. There are books written about this that may help guide you. A simple approach would be to start with silence, then have a time for each of you to share, followed by a time of listening for God, sharing any insights and then praying for the person who shared, and then repeat the process for the other person.
Join a small group at your religious organization or ask if you could start one. Resources are available to assist you.
Check out my book Awakening: A Contemplative Primer on Learning to Sit for more information. And let me know how you find
[i] Women-to-Women, Columbus Spirituality Network. Reference: https://spiritualitynetwork.org/women-to-women.