June 30th, 2020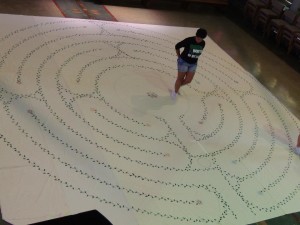 Labyrinth Blog Post – July 1, 2020
Walking the Sacred Path
Labyrinths become popular in times of great chaos. Ancient cultures utilized this archetype, dating back over 5,000 years.  In the middle ages, Christians built labyrinths into the floors of cathedrals. This divine imprint provides a simple path, winding into the center and back out again. Now, in these days of pandemic and awakening to the imbedded racism in our society, the labyrinth offers a path toward healing and peace. In this blog, I want to talk a little bit about my own experience with the labyrinth and encourage you to consider how it might enliven your spiritual practice as well.
When I turned 50, my friends surprised me with a labyrinth mowed into the grass in a friend's backyard. For my first walk, I donned a red hat and purple boa and laughed. I enjoyed it, but I'm not sure I really got it. If you come upon a labyrinth in a park or church, you may have a similar experience, but I encourage you to try it again.
After my party, one of these friends invited several of us to an indoors canvas labyrinth in a downtown church in a neighboring town. There, with soft music and lighted candles, I really experienced this sacred path for the first time, sensing the slowing and prayer time of listening.
There is a mystery about the labyrinth experience that I've witnessed both in my own life and with others. Some call it a "thin" space, where the veil between heaven and earth seems lifted. I've heard from people who have passed on to the other side. Often, I have received wise counsel from God as I walk the questions of my life.
The simple circular pattern of the labyrinth helps connect us with self and with God.  The repetitive, symmetrical aspects of the path which wind around and back and forth tends to create balance and wholeness.  Many report deep emotional and spiritual experiences when walking. Some also report a deep connection with the earth.
A simple way to walk is to release, receive and return. On the path to the center, release and let go of any burdens or thoughts.  In the center, pause to receive a gift from God. On the journey out, begin to return back into the world.  Or you might ask a question before you walk, listening for answers on the way in, praying about the answers received in the center, and beginning to integrate the answers on the way back out. New walkers are encouraged to walk the labyrinth three times, before deciding whether or not to incorporate it into their spiritual practice. Veteran walkers often report each walk to be a unique experience.
When I enrolled in a class in leading contemplative small groups and retreats with the Shalem Institute of Spiritual Formation, I began to read and learn about labyrinths. Later at our church, I created a cloth labyrinth with friends. We first offered Friday "Happy Hours with the Labyrinth" Over time, I began to rave that the walks were "better than beer." I would arrive at the walk emotionally and physically drained from a long work week. After letting go of frustrations while walking the labyrinth, I found new energy and hope, near to the heart of God.
Later, I became a "Certified Labyrinth Facilitator" with Lauren Artress' organization, Veriditas. Friends and I led labyrinth walks at a woman's reformatory, in the juvenile detention facility, for an urban neighborhood group, for a church women's retreat, at the local cancer center, and in the chapel at our local college. I slowly became a labyrinth enthusiast. I even wrote a novel, Revelation at the Labyrinth (eLectio Publishing, 2017) and my most recent book Awakening: A Primer on Learning to Sit (Higher Ground Books and Media, 2020) includes a chapter on walking the labyrinth
One of the most powerful experiences happened when a friend and I led a labyrinth walk at a women's prison. The spiritual energy in the room that day stayed with me through the coming week. One woman said she felt such love from the others in the silence, unlike the hostility she often experienced in the prison. The women wrote beautiful poems and thoughts afterward, explaining what the session elicited within them.  Another time, leading a session at the local juvenile detention center, I explained the labyrinth emerges in times of great chaos. I didn't think they'd get it, but they totally understood. They also really seemed to enjoy the walk, connecting in the center with each other.
Right now, I believe the labyrinth to be a wonderful tool to help us seek inner peace in troubling times. It can also help us seek and find answers and solutions to the great issues confronting our society.  Each of us can listen for our role and part in working toward a more loving, caring community.
So, I encourage you to try a labyrinth. You can probably find one in your community. Or maybe, like me, you'll decide to make your own! Here are a few things you can do to explore:
Check out the website "labyrinthlocator.org" to find labyrinths near you. You can also use this resource when traveling. Some labyrinths are in public places and churches, many quite accessible and possible to use while social distancing. Indoor labyrinths are usually open on a schedule.
Make a finger labyrinth to use. This can be as simple as finding a labyrinth image online and printing it out, and then playing the spiritual, jazz, drumming or classical music that resonates with you while tracing the path with your finger. If you have craft skills, you might want to carve one into wood, or add texture to the paper labyrinth to keep your finger in the lines. I recently learned to make a finger labyrinth on a 12-inch square canvas, covering the lines with thick twine or clothesline, then modge-podging it and finally painting it with acrylics. You can also buy a finger labyrinth.
Read a book about labyrinths to learn more about walking them. If you enjoy labyrinth-walking already, choose a book to learn about more ways to use a labyrinth. A few books I would recommend are The Sacred Path: Rediscovering the Labyrinth as a Spiritual Practice by Lauren Artress (Riverhead Books, 1996) for introductory understanding and The Sacred Path Companion: A Guide to Walking the Labyrinth to Heal and Transform by Lauren Artress (Riverhead Books, 2006) to learn more about using the labyrinth for specific rituals and events.
Check out my website at SpiritualSeedling.com for more information on my books and work.