April 26th, 2018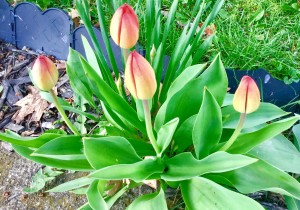 For several years, I have been receiving Letters from the Earth. Now, she urges me to share them with you. I believe they come deep from the heart of God, the nurturing energy in all of creation. I received this letter after local high school students presented a program at our John Legend Theater on how it's okay to be different and go against the grain.
April 11, 2018
A Letter from the Earth concerning Opening
Dear Nancy,
At this time of year in Ohio, the world is awakening, isn't it? Although you've had a very strange spring, you are seeing signs now of new life, aren't you?
In your front yard, you've welcomed yellow daffodils, fragrant purple hyacinths, and some white and lavender crocuses. You know your tulips are up and waiting in the wings to unfold.
Opening. The plants are opening, up, reaching toward the sun, emerging from the earth now. Soon you'll be preparing your garden and planting new seeds and plants and flowers.
I want you to watch the opening. Observe the buds as they develop, slowly becoming luminous and then they burst open into life. The light of the sun, the warmth of that light, photosynthesis, all combining into the miraculous moment. Quite lovely, if I might say so myself.
And so it is with you humans as well. You need the light of my love and the warmth of community to trigger inner transformation and help you open into your true selves.
The young people in the Springfield High School Leadership Team explained this so well Monday night. They said it's okay to be weird and go against the grain and that opening their minds is very important.
Open up. That's my message to all of us. It can be scary, I know. But open up and bloom into your true self. Allow my light to transform you into beauty and hope. When you absorb my love and light, you can be who you were called to be in this world.
It's spring time. Observe the blooming all around. You can bloom, too. This is what I hope for you all.
Love, Gaia.