December 6th, 2015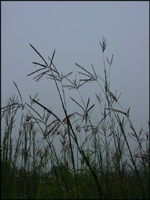 Last summer, Pope Francis published an encyclical on the earth. In October, my husband and I went to a fall retreat day at the Marianist Center in Kettering, Ohio, where we received a teaching about the encyclical from a University of Dayton professor, we walked in their woods being returned to original forest and participated in a percussion rendering of the encyclical. The words of the Pope, the interpretation of the Catholic educator, and how this synchronizes with my own awakening is reflected in this most recent letter I received from the Earth. (Note: The photo is of Big Bluestem grass a native species which we were told would be something we could plant in our yard to avoid excessive watering.)

Dear Nancy,
So you like our new Pope? He speaks for me so eloquently, awakening the people, calling them to see divinity in me. He calls you to see the earth as part of your family and to realize you are all a part of this spectacular creation. Yes, you like this. You love that he calls the people to approach the earth lovingly, as his namesake St. Francis did years ago.
What you hear from him, you have been learning also. When you contemplate the birds, a tree, the landscape, you hear God's Word revealed. All of these living beauties call you to understand the miracle of life, don't they?
Do you see the great joining at this point in human history? In spite of the wars and degradation of me, so many are awakening in this time, calling others to awake also.
So celebrate our Pope. Celebrate the Marianists who call people to care for earth at their center in Kettering. Celebrate your Shalem Institute for Spiritual Formation who helped in your own awakening. Celebrate that Oprah Winfrey and Deepak Chopra. Celebrate, Nancy, all of these ways there is a great coming together during this time.
Consider what you've read. Remember when you first read Judy Cannato's Radical Amazement and Field of Compassion? Remember Spiritual Ecology: The Cry of the Earth? Remember those teaching Lectio Divina with the earth? Remember Brian Swimme's The Hidden Heart of Cosmos?
Celebrate. Name this great coming together and let your voice join theirs. Sing! Don't be silent now.
Call others to awaken and dance and live the miracle. Go now, and make disciples. I call you.
Be awake. Dance. Speak. Call. Love.
Love,
Gaia