September 30th, 2015
For the past 19 years, part of my job in Human Relations for the City of Springfield has been to help put on CultureFest, an annual festival celebrating the diversity of our community. My coworkers and I in Community Development put a lot of time into coordinating this event. Today's letter from the earth, underscores that this is an important event and expresses gratitude to all of those who make this day happen.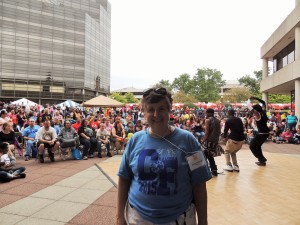 Dear Nancy,
You experienced me in my divine glory in the people gathered Saturday at CultureFest on the Springfield City Hall plaza. There you see why I call you and all earthlings to dance. It's in your blood, yes?
The pinnacle of the day was that XClusive Dance Group who filled the plaza as they twirled to the Hip Hop music of our times. "All of Me" celebrating your home town John Legend, and celebrating other creative muses – like LaJuan Dotts, Xclusive Creator, expressing Spirit in movement.
Next up, the Indian dancers splashed the plaza with color, sublime movements and fun. You delighted in the row of male turbaned heads watching their Sikh women twirling with dances of their homeland, sharing joy with all. So happy that they could celebrate and share their culture on the City Square.
And then you checked out the Egyptian Breeze Belly Dancers gyrating in the CultureDance tent. Enjoying the beautiful women, noticing Jim Lagos appreciating their gifts as did you.
Yes, this is the stuff of life that carries you all into joy. Dance! I say dance!
You might have been a little under the weather Saturday and couldn't dance yourself, but you smiled and laughed and appreciated the others. I hope you will really make more time in your life to dance. It's good for you, you know?
Then back to the dance tent later, I noticed you mesmerized by the smooth movements of the Urban Line Dancers, gently rotating out and embracing in, completely synced to one another, a hip hop swing of mellow motions, expressing love with partners. Yes, I love to watch this, too.
And there you saw the Hula dancers clicking their sticks into a circle, swaying, moving, teaching the children to dance. And you photographed Shih Ming execute the long form of Tai Chi, moving effortlessly through space, moving Chi, moving in harmony, maintaining a healthy body, teaching you how to live.
 And you enjoyed Betty Koehler once again teaching the children to do the Mexican Hat Dance at CultureJam. They laughed. The girls quickly mastered twirling their skirts. The boys proudly donning the Mexican hats. The Mariachi Band smiled watching the younger generation learning the ropes.
 There at CultureFest, a cacophony of sound and music and silence, uniting you all with common heart beats of life. The African dancers featured their drummers and you felt that harmonizing pulse of life. Didn't you feel it moving them? Didn't you see it as they brought others up to dance along?
Project Jericho carried that beat along also. When you visited them in the CultureDance Tent, you saw most of the young bowed, and then one by one they awakened into that rhythm of life, sitting up tall, joining the concert, deepening the sounds of this community of drummers, inviting you also into that joyful pulse of being alive.
Yes, Nancy, CultureFest is a very good thing. Keep it going. Keep the beat. Find ways to dance along. Take time to realize and appreciate the significance of this community celebration.
Thanks to you and to all of those making this happen. Thanks to all of those expressing the joy of life. Please thank them for me. This is the splendor of life; the meaning of the gift of life which I offer to you all.
Love,
The Creating God of Earth