September 13th, 2015
On Labor Day, we invited friends over for a Garden Party. We dined in the backyard, surrounded by our gardens and flowering potted plants enjoying teas and a variety of salads on fine china. We came dressed for fun, red hats, bow ties, colorful robes, dresses and everyday garb for some. After lunch, my friend Naureen, who learned the art of flower arranging as a young girl in her native Pakistan, taught us how to compose our flowers into bouquets. The next day the Earth wrote me this letter about our experience.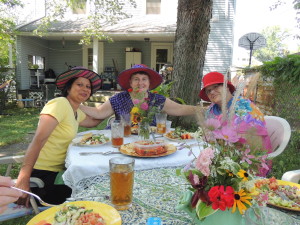 Nancy Dear,
Yesterday you came home to me and participated in an exquisite garden party. Surrounded by my beauty, you partook of my bounty and experienced the fullness of me, living with joy with your favorite people.
I noticed that you paused to consider the great variety and diversity of the plants and flowers in your yard. I noticed you savoring Chris' deliciously spiced brown and white bean salad with green celery, Naureen's colorful salsa of yellow corn, red tomatoes and peppers, green cilantro and black beans, the fruit kabobs of orange melon, red strawberry and yellow pineapple. I observed you enjoying the fresh mint and herbal teas from my leaves. And you inhaled that delightful new dish your husband created,  potato tomato salad, and Karol's green lettuce salad with that Greek dressing you love and Holly's brussels sprout offering.
Do you pause every day to give thanks for the amazing offerings of earth? Do you realize how generous I am in sharing life with you?
Please return the favor. Be generous, please. You'll find it leading you into ever more abundant love.
Later when Naureen became teacher you began to notice the flowers and greenery more, didn't you? Flower arranging is such a noble art, taking my beauty and developing compositions that delight and astound. You watched your friends mesmerized with the possibilities of earth art, didn't you?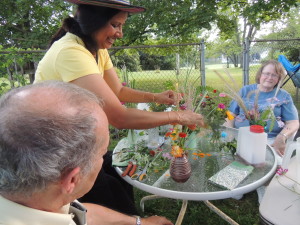 You each composed flower bouquets – delicate and blooming, arranged into artful display, delighting the eye and presenting me to brighten the day.
Did you hear Naureen say she always has fresh flowers in her kitchen and bathroom? A little bit of me, artfully arranged to keep always connected to me in the many mundane moments of her day.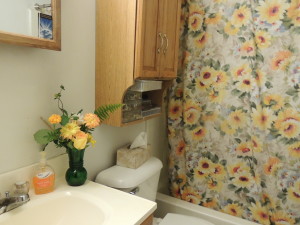 Nancy, Nancy, Nancy. Do you see life is a precious gift to be savored? Enjoy your flowers. Enjoy feasts of my bounty. Enjoy your friends, my crowning glory. Slow down and be present.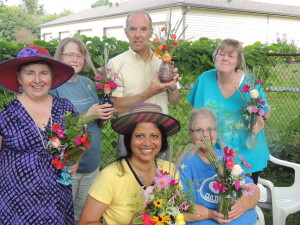 I love you.
Your Creating Mother, Your Favorite Father,
Word Alive in all of creation, Gaia God
If you'd like to see a few more pictures and the music we enjoyed together, click here for a YouTube video I created to hold the memories of this wonderful afternoon at Labor Day Garden Party 2015.