August 22nd, 2015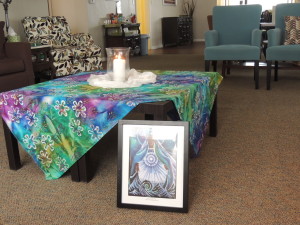 Last weekend, I attended a Contemplative Retreat in Columbus, Ohio led by friends connected with the Shalem Institute for Spiritual Formation. During a time of silent retreat in the afternoon, I prayed with a holy icon, a modern painting by Michael McGrath. Holy Icons are "written" by artists to be used as portals to God. Churches in Eastern Europe are filled with these types of paintings. They are less known in our country, but becoming more popular among contemplatives. Here's what God spoke to me that day, another Letter from the Earth, our Creator.
Dear Nancy,
Today you realize there is much you don't know or understand about me. As you've been gazing at a representation of me as the "Star of the Sea" by Michael O'Neill McGrath, OSFS, you've had quite an experience of me, even though it's unclear and growing on you.
You see me as consciousness, as crown, as star of creation, birthing all of this planet which is body and also consciousness.
You see me with one eye closed and one eye open and you know the key to wakefulness is inner silence.
You see the heart centering, radiating light, the white light of love.
You see the mystery held in loving arms.
As you colored later, your saw your call, as crown, too of creation, to listen and to speak from your heart and to make peace, from the wellspring of my peace.
You hear a call to listen to the polarities.
Here I call you.
My creatures find conflict. Help them listen. Help them find hope. Be light. Let your heart shine.
Love,
Gaia, The Star of the Sea, Your Creator God